Share Your Story with DRNY
This is an invitation for you to share your story and get involved in the conversation or seek advocacy assistance from DRNY staff.
DRNY's work to promote body autonomy and the civil rights of pregnant and birthing people is made possible thanks to a generous grant from The New York Bar Foundation.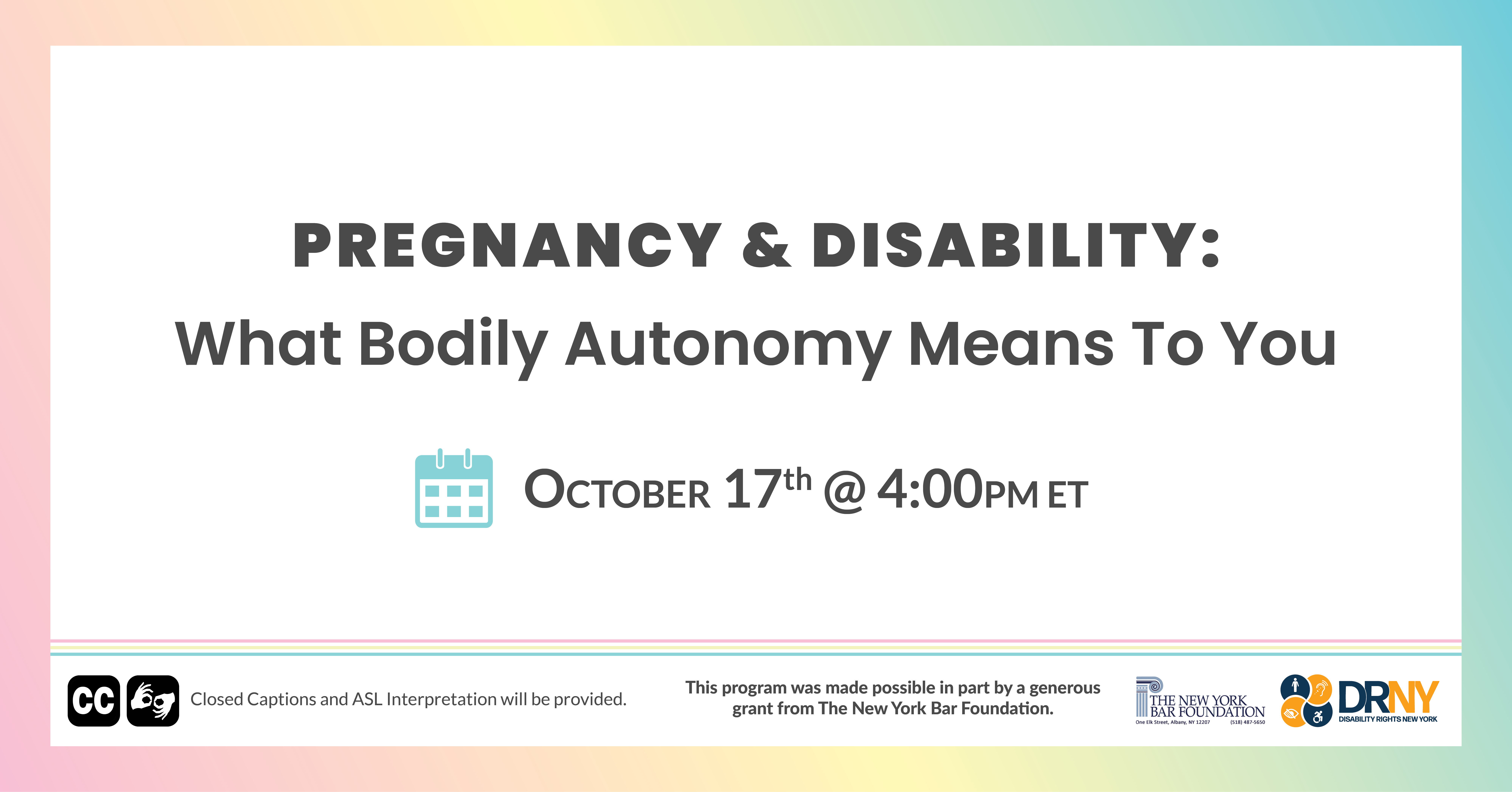 Image Description: Pink, yellow, and blue gradient border. "Pregnancy & Disability: What Bodily Autonomy Means to You." Event Information listed above. Closed captioning & ASL Interpretation icons. The New York Bar Foundation logo and Disability Rights New York (DRNY) logo.
Pregnancy and Disability: What Bodily Autonomy Means to You
You are invited to a virtual roundtable discussion about pregnancy, birth, and postpartum recovery as they relate to disability rights. In this event, featured participants from New York State and across the country will share their personal stories about bodily autonomy, birth, postpartum, and raising children as a person with a disability. DRNY wants to learn how we can best support the disability community on these topics so that people can make their own decisions about what happens to their bodies.
We invite you to share your own personal story and to join this safe space to discuss what bodily autonomy means for people with disabilities today. This presentation will not be recorded.
WHEN: October 17, 2023 @ 4:00pm ET
REGISTER: https://drny-org.zoom.us/meeting/register/tZUkfuiurDoiEtE1FvpZsAjWwhGFNJHWH9qI#/registration
The event is free of charge, but registration is required.
Closed captions and ASL interpretation will be provided. For other accommodations, please email roundtable@drny.org.